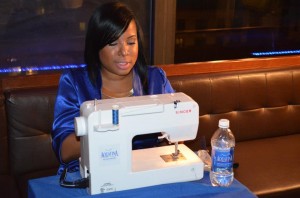 I have sat down to write this post about five different times.  To be honest, I have been in a serious funk for months between work, uncertainties surrounding what I really want to do in the fashion industry  and Life in general.  This post was originally going to be called "SUCCESS…FAILURE…WHAT'S THE DIFFERENCE?"  but that sh!t is just depressing! LMAO  Instead, I'm here to press reset on the last few months and regain the excitement and motivation I had at the beginning of the year.  A fews weeks ago my team and I got together and came up with a plan for how I will format my blog posts for the time being.  (yes I have a damn team! Well they are my girls but still a team nonetheless! HA!)  The goal is to at least blog every week about the following:
 "ASK CAG" i.e. answer Pressing questions from my readers (SEND ME YOUR QUESTIONS ASAP!)
CAG's Masterpieces (or disasters…ha!) i.e. feature what I've made that week and wear it.
Personal Reflections i.e. Talk about what the hell I want to talk about!
Yal know I hate structure but I'm willing to try this out for at least a week!  However, for this post I just want to reinitiate a conversation with my readers (all two of you), give a quick update on what's going on with me post "Aquafina-gate" and FINALLY answer your questions about my Aquafina/Project Runway Experience. (Even If you don't give a damn at this point! HA!)  I guess in a way I'm covering the "ASK CAG" and "Personal Reflections" segment for the week.
Check out what's been going on with me and your questions answered when you read the rest….