I have a secret…A deep dark secret that I've never shared with anyone until now…
I'm an assassin…my weapon of choice…Fierce Footwear! HAHAHA!!
On a serious note, I have something uber exciting to share with you guys!! I was featured in a photoshoot with my dear friend Derek of the Photo Chase Photography   a few months ago and I've been DYING to share the pics with you guys.  (LIKE HIS PAGE ON FB! He's AMAZING!) Normally I'm behind scenes doing makeup/Hair/Styling/Performing Plastic Surgery etc, but this time he asked me to be in front of the camera for a change…why?  Because it involved slaying helpless hot men with my finest stilettos, platforms, pumps and boots!!
Check out the details, pics, and promo video when you read the rest…
Everyone on the planet pretty much knows about my obsession with shoes.  For the longest time Derek has been trying to figure out a way to incorporate shoes into a photoshoot.  He wanted to do something creative that played on the term 'Shoeicide' which was coined in the rap artist's, Fabolous, song 'You Be Killem 'Em'.  In the song Fab talks about an extremely stylish woman who has impeccable taste in shoes.
At first I had an idea for the shoot that Derek wasn't feeling AT ALL!  Hey it happens! (Because he's crazy!)   So I left him to his own devices to plan it on his own.  I was convinced that his idea would never be as good as mine no matter what!  Boy was I wrong!! (Smile)  Basically, he got me and one his other amazingly fabulous friends, Monique, to play SERIAL KILLERS THAT KILLED THEIR VICTIMS WITH SHOES!!! How cool is that?!  HAHAHA…
Basically he did a build up of the shots where the detective, played by my husband in my head Grant Harvey-Pender, picked up clues from each murder scene.  The clue was a shoe that each of us i.e. Monique and I, left behind.  It was definitely hard to narrow down the shoes I wanted to use because I feel like all my shoes are my babies and I love them all equally!! Okay that's a damn lie but it was hard to narrow down to just 4 pair when you have over 300! EECK!!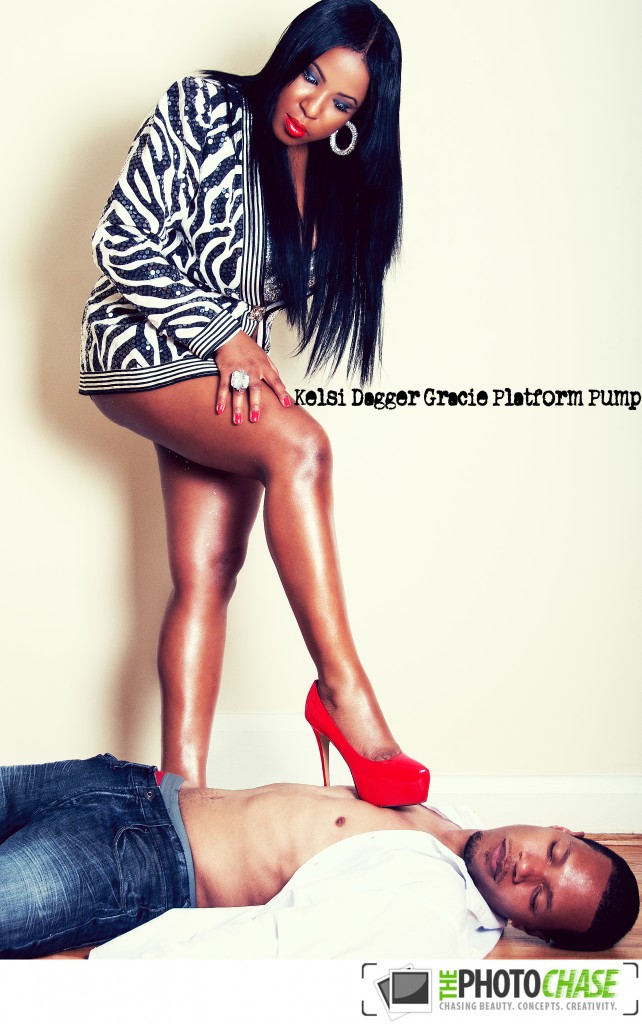 Here is the main shot that seems to give everyone life (INCLUDING ME!!…lol) I know what you're thinking.  Yes I have on underwear!! In fact, I covered my bra and panties in glitter which you can't really see in the shot.  However, there are hints of the glitter on my leg (and lots in my booty!).  I got the jacket from a vintage sale last year and was about to give it away because I couldn't find anywhere to wear it.  Thank goodness I didn't!! It made the picture pop with the red Kelsi Dagger platform pumps!  I got these shoes at the beginning of the summer and of course they are on sale now.  ::sigh:: And I flat ironed my 20 inch Remy hair until it had no more texture in it!! (Oh how I miss it so…lol) What do you think?!
Monique also has some AMAZING shoes which I swooned for during the shoot.  It tried to find all the shoes featured in the shoot (or similar to it) online just in case you wanted to purchase them for yourself.  Unfortunately, we've had several of them for a while and they're no longer available.  With that being said, enjoy the pics from the shoot and feel free to purchase any of them that are still available below!! ENJOY!!